Let us be your dining partner.
Paul Bunyan's Northwoods Cook Shanty is Wisconsin's favorite dining destination with locations in Minocqua and Wisconsin Dells. We are proud to continue the tradition of great vacation dining service. Scores of seasonal groups and tours enjoy our popular ALL-YOU-CAN-EAT meals that are designed perfectly for group appetites and schedules.

There's atmosphere galore! 1890's Logging Camp artifacts and fixtures, historic logging photos and in the setting of Golden Pine Log dining rooms. The Cook Shanty is the ideal memory-maker with great food, fun family service and unique style.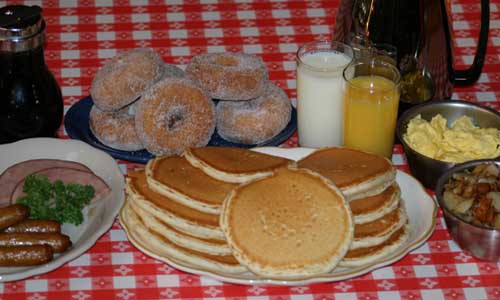 Our Famous Camp Breakfast is Deeelicious… featuring hot griddle pancakes, sausage links, fresh scrambled eggs, smoked ham, camp fried Wisconsin potatoes, coffee, milk, hot tea and orange juice all served with our scrumptious warm Homemade Buttermilk Donuts.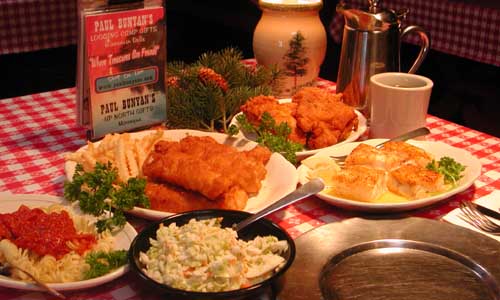 Great Northwoods Dinners are certain to please, always featuring two delicious Entrees served to the group. Dinner will include: fresh camp bread, garden salad or slaw, flavorful potato and vegetables and tasty torte dessert. It's ALL-YOU-CAN-EAT and they'll love it!
Paul Bunyan Cook Shanty makes it easy for tour group planners:
• Easy access from highway.
• Seating for 350.
• Handicap accessible and large bathrooms.
• All on one level – no steps.
• Quick service with tour priority.
• Running a little early? No problem. Tour groups LOVE our gift shop.
• Beer/Wine/Cocktails available.
• Close access to other local attractions.
Don't let your group attendees leave without stopping at the bakery!
Contact us today to book your group!
Minocqua
715-356-6270 Phone
email Sales Contact – Minocqua
8653 Hwy 51 N.
Minocqua, WI 54548
Wisconsin Dells
608-254-8717 Phone
email Sales Contact – Wis. Dells
411 Hwy 13
Wisconsin Dells, WI 53965
Tour Breakfast served daily starting at 7 A.M.
Tour Lunch/Dinner served daily starting at 12 P.M.
Open Late April through Mid-October.